Praise for Bit Literacy
(also see
reader comments
)
Mark Hurst has written the indispensable guide to the digital era. Instead of a mere "how-to" guide, Hurst shows what's really going on when we struggle with e-mail and todo lists. For anyone who has ever used a computer, this will not just wildly increase their productivity (as it has for me!) - it'll also let their ideas fly.
- David Bodanis, author, E=mc2 and Passionate Minds
An informative and clear step-by-step guide on how to turn the ever-increasing avalanche of bits into a force that will propel your life and career.
- Tom Hughes, Chief Design Officer, Idealab
Mark Hurst is the smartest person thinking about ways technology can make our lives easier rather than harder. If you're willing to give up some of your useless bytes for true knowledge and crowded RAM for zen clarity, then get bit-literate today.
- Douglas Rushkoff, author, Get Back in the Box
A lot of people feel left out of the whole Internet and computer thing, but realize it could be really valuable for them. Bit Literacy provides the basic skills required for anyone to engage the wave of informational change.
- Craig Newmark, founder, craigslist.org
Most of us learned how to deal with digital technology in piecemeal fashion. We developed habits that served us well for a time. But for the modern digital age, almost all of our habits are bad. In Bit Literacy, Mark Hurst provides brief, no-nonsense, clear, and unbelievably helpful advice on how to replace those bad habits with good ones. Take his advice and instead of being tyrannized by the overload that comes at you daily, you'll be liberated.
- Barry Schwartz, author, The Paradox of Choice
The word 'empowerment' should be included in the subtitle of this book, as I believe reading it reduces the hypertension involved in our daily journey through the flotsam and jetsam of life. Bit Literacy helps make the complex clear.
- Richard Saul Wurman, author, Understanding USA
• Buy the book from Amazon (there's also a Kindle version).
Comments from readers of Bit Literacy
Bit Literacy should be required reading for anyone in the technology industry. In an age where drinking from the information firehose has become the accepted norm, Bit Literacy guides one to a far more productive path.
- Matt Domenici
Director, Product Development
Snapfish, an HP Company
- - -
I really enjoyed Bit Literacy: lucid, clear, smart, helpful. It's very powerful.
- John La Puma, M.D., Medical Director, Santa Barbara Institute for Medical Nutrition and Healthy Weight
- - -
I just wanted to write a note and thank you. Bit Literacy has changed my life.
Over the past decade of working for dotcom start-ups and global media companies, there has always been one constant in my life: the stress of bit overload. Just as you detail it. The endless emails, the disorganized notes, the post-it's across my desk. The weight of always knowing there's more to be done. And the fear that I'm not consuming as much information as I could.
Reading your book was, for me, a small form of enlightenment. I would laugh out loud. At points, I would even smile moony-ishly. As I finished collating my disparate to-do's into gootodo.com, an incredible weight lifted from my chest. And I went outside. And walked in the park. And was happy.
I hate to cite you as a digital-era Deepak Chopra, but reading Bit Literacy really has changed my life. Halfway through, I bought a copy for my brother, who immediately passed it on to his wife. My father and another brother both have copies on the way.
I no longer feel burdened. I'm finally able to let go of the office, and relax.
Thank you, Mark.
- Andy Deemer, New York City
- - -
Within 24 hours of reading Bit Literacy, I'm down to zero emails in the inbox (and that is a strange feeling) and my to do list (on gootodo.com) is finally looking manageable. I never would have thought this would be so freeing. My productivity has already improved.
In fact, I just purchased this book for all of my employees and am encouraging them to get their own gootodo lists. Thanks for a very helpful book.
P.S. My wife got her inbox to zero today as well. She had 300+ emails. We're going to the movies tonight to celebrate.
- Chris Peterson, New York City
- - -
[TomPeters.com]: It's changed my life in the last week, since I read your book. ... I'm impressed with the comprehensiveness. This really is, in a way, a bible for the white-collar worker.
- From the TomPeters.com interview of Mark Hurst
- - -
Bit Literacy gives you smart, practical information on how to tame the endless possibilities of life in the digital age. Among the topics are he covers are email, todos, files, and photos. It's amazing how much better you'll feel when you apply Hurst's digital discipline.
- Charlie Suisman, gettrio.com review
- - -
I'm sending this mail from a completely empty mailbox. The feeling is amazing. As I have been working to let my bits go, I have literately felt a heavy weight being lifted off my shoulders as well.
I have always been skeptical of people who have seen some sort of light and tried to convince others that this or that philosophy, religion or method was the only true way. That is, until I read Bit Literacy - because now I have become a believer myself and am pushing the book and the methods onto anyone willing to listen. It is working wonders for me and I can only recommend that you invest the time to try it out for yourself.
- Jakob Bruhns, Denmark
- - -
If your inbox is overflowing, stop what you are doing and read this book. Everyone feels overwhelmed by their electronic life and Bit Literacy shows you how to get control. The time out you take to read the book will pay back 10-fold in productivity.
Stop staring at your inbox and start focusing on your "to-do" list. Getting your inbox to zero is so incredibly powerful, you won't believe it until you try it.
Kevin King, SVP & General Manager, Zingy
- - -
I've become a big believer in Mark Hurst's Bit Literacy, an astoundingly commonsensical approach to managing all that stuff. I feel both more productive and more relaxed than I have in weeks. It's bliss.
- - -
Managing digital information in business today is a Sisyphean challenge: deadlines slip, morale declines, productivity decreases, and quality and innovation suffer.
Enter Mark Hurst and Bit Literacy. Thousands of emails later, I still begin and finish each day with an empty inbox and now I have the time to actually do my job.
- Chad Houghton, Director of Internet Operations, Society for Human Resource Management
- - -
Bit Literacy helped me permanently change the way I work. Once I learned an easy method for getting rid of the noise, I not only feel more productive, I'm unexpectedly happier. When all my Gootodo stuff is below the line and my inbox is empty, I go home.
- Archie Miller
- - -
Bit literacy is a very very BIG idea. I cannot thank you enough for writing the book. I've not only cleaned out my inbox, I also cleaned a few of the nagging corners of my house. Now I'm sitting around on a Sunday morning and more completely relaxed than I have been since, well, I last went away on vacation! I can't put enough value on that.
- Kaye Puhlmann
- - -
Thank you for a great book. I've already cleared the inbox and ready to set up proper folders for photos. ... I finally feel I'll be able to manage the computer as I do the wrenches in the toolbox: directly and efficiently.
- Jeff Leahy
- - -
I highly recommend Bit Literacy. It's a quick, insightful read on a topic that has the potential to make you significantly happier the day you finish reading it. How many books have you read recently can deliver on that promise?
- Kareem Mayan (from his well-written book review)
- - -
If you deal with computers, email, [or] digital photos - you need this book. ... It will teach you how to manage them, so that you can deal with them as little as possible.
- Stephanie Weaver, Experienceology
- - -
Bit Literacy is super. Reading it made me feel so much better... I am delighted I did and have learnt so much from it.
- Kathryn Mason, Ireland
- - -
Thanks for writing such a timely and perfect book! It's really great to think that a lot of these practices are already used by my company and myself, but Bit Literacy also contains so many new ways to be efficient and present.
My inbox is empty and so is my mailbox, desktop, kitchen counter, etc. It's changed my life in a great way!
Courtney Lind, information architect, EatonGolden
- - -
Just a quick note to say thank you for producing this invaluable resource. The chapter about e-mail management is a tremendous help. My own inbox now reads "zero" for the first time in ages, and I intend to keep it that way! It is an amazing feeling. I get it. I am recommending the book to everyone on our team.
- Jason Black, communications manager at a financial services firm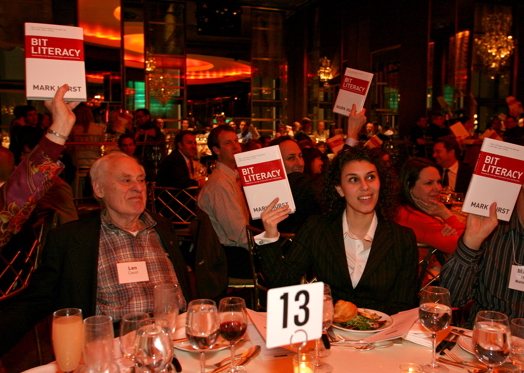 • Buy the book from Amazon (there's also a Kindle version).
- - -
Seth [Godin]'s not wrong: Mark's book could be the Elements of Style for the online world.
The book is good. I can't communicate what I've done very well now, but it's awesome.
- Heath Row, in his mediadiet.net review
- - -
Bit Literacy is a healthy motivational tool for anyone having a hard time keeping up with their personal digital avalanche. Even if you already use some of these techniques, chances are some of Hurst's advice will give you ideas on how to change your daily practices.
- Matt Linderman, from the 37signals review
- - -
An excellent book. ... A highly recommended approach to sorting through the billions of bits that permeate our lives, ensuring that you're in control of your "media diet" instead of the other way around.
- - -
Hey Mark, just received the first three copies I ordered. Having seen incalculable returns on the ten bucks I paid for your e-mail white paper a couple years ago, there was no hesitation.
Shared one with our Chief Knowledge Officer; in three days it's changed his outlook (no pun intended). He was one of those people with two thousand emails in his inbox. The other one's going to my CEO.
Bit literacy is a competitive advantage. Thanks for the concept and the well-written book about it.
- Bill Heggie, Principal, Group Strategy Director, The VIA Group
- - -
This book is outstanding. I understand and love Bit Literacy, having gained tools and wisdom from it. For example, I had thought that I was virtuous because I never had more than 15 messages in my inbox. Thanks to your method, I now have 0 messages in my inbox. Acting on, deleting, and filing those last 3 was no easy task, but it was imminently worthwhile, because now there is nothing looming.
Thank you for creating this fine book, using not a single word more or less than was needed.
- Ngozi Okaro
- - -
I simply loved Bit Literacy. It reminds me a lot about what I like in Macs - simple, powerful and elegant.
- Olek Poplavsky, software developer
- - -
If you feel overwhelmed by the amount of info coming your way daily, [Bit Literacy] is as good a place as any I have seen for you to start getting a handle on it.
- - -
I have had a lot of the issues addressed in Bit Literacy (I have saved tons of files on the marketing server as "Press Release Final 3 USE THIS VERSION" ... how did you know?) and I appreciated your take on them.
The book also inspired me to sign up for Gootodo and I have been really enjoying it. I have scary follow-up-abilities now. I think it kind of freaks my coworkers out.
- Donald Carson
- - -
I've been working on computers every day for over 15 years. Who'd have thought that one little book could make me change anything about the way I work? While I was reading Bit Literacy, I felt my brain go 'pop!' -- in a good way -- and now I work with my computer.
- - -
Keep up the good work. Your work is making mine a lot easier to accomplish!
- Mary Hinkle Shore, Associate Dean, Luther Seminary
- - -
Bit Literacy has turned out to be a great investment! It's had a big impact on my productivity. I've recommended it to all my staff.
- Kate Eltham, CEO, Queensland Writers Centre
- - -
Prior to reading Bit Literacy I continually wondered what I was missing at the top of my long list of emails. Now I know that the things that really matter are in my todo list, and my inbox is empty! Thanks! It has made a real difference in my feeling of being on top of things.
- Christine Kurihara, Stanford University Biodesign Program
- - -
How to navigate the high-tech world of information overload in a more efficient, less stressful manner. ... A practical guide to managing digital communication.
- - -
Bit Literacy is wonderful! I get so much more done, and can clear my "memory banks" for thinking about what I'm doing without worrying I'm going to forget something important. I have recommended it to my whole team.
- Gayla Drake Paul, Assistant Director of Recruitment Solutions, Noel-Levitz
- - -
I'll definitely be telling people about Bit Literacy. Since I opened the book about two hours ago and read the first eight pages of the e-mail section (I skipped ahead to my greatest "bit-pain"), I've deleted over 1,000 e-mails, drastically simplified & renamed my e- mail folders & related rules, and moved things to my to-do list that were just sitting in my inbox. So... thanks!
- Dennis Crumbine
Lead User Experience Designer, Zymmetry
- - -
• Buy the book from Amazon (there's also a Kindle version).